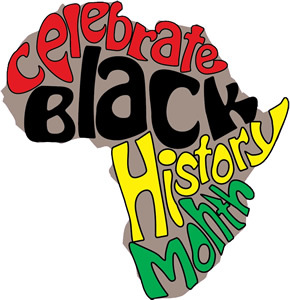 REVIEW OF BLACK HISTORY MONTH OCTOBER 2015
INTRO
One month, 17 events in a collection of talks, TV appearances, radio programmes, debates and discussions, and appearances across the country from Cardiff to Birmingham, and of course, Bristol.
Roger hosted his weekly radio show, The Old Skool Cruising Show which had sponsorship for the first time from one of Bristol's major family exhibits, the Science and Technology Centre of At Bristol https://www.at-bristol.org.uk/   His media and community consultancy, 2morrow 2day produced four special programmes for them as well as Bristol's Big Conversation interviewing leading local community figures. These included Peaches Golding OBE, Bristol Bus Boycott campaigner Roy Hackett, former BBC Managing Editor Tim Pemberton and Gladiator champion Janet Teape (formerly Janet Allen) who now lives in America.
BRISTOL CENTRAL LIBRARY 21ST OCTOBER
One of the highlights of a great month was Roger's talk at Bristol Central Library. Roger had spent four months in the vast cavernous research rooms at the Library which holds details of every ship that left Bristol's docks during the Transatlantic Slave Trade. Roger had great support from the staff at the Library and he made a dedication to them in his book. He read three passages from his book and answered questions from a warm audience.  https://www.bristol.gov.uk/libraries-archives/news-events
HANHAM WOOD ACADEMY – 21ST OCTOBER
Roger delivered a big-screen presentation to 100 students aged between 13-15 years, at the auditorium in Hanham Wood Academy in Bristol. He was impressed by the challenging questions from some enquiring young minds.
SOUTH GLOUCESTERSHIRE COLLEGE – 4TH NOVEMBER
Roger gave a very personal talk to college students at South Gloucestershire College about his life without formal education in Bristol. He discussed finding his path to education through his heroes Malcolm X and Dr Martin Luther King and the need for continuous personal development.
UNIVERSITY WEST OF ENGLAND – 14TH OCTOBER
Roger gave his first ever lecture to university students. He said 'For a boy who left school without any qualifications and never visited a university until he was in his twenties it was very humbling'. He was invited by Dr Sarah Robertson to present to her history students.

Following his lecture he is now an Associate Lecturer for UWE and works with UWE's widening participation team to recruit new students for the University.
SELMA – THE FILM
Earlier this year Roger appeared in Belfast at the opening of the Oscar nominated film 'Selma'. Having visited Selma twice and wrote several passages to one of the great battlegrounds in the civil rights struggle in his book, he was delighted to be asked again to read from his book and hold Q&A sessions at two events. The African Voices Forum hosted a screening at Malcolm X Community Centre, St Paul Bristol on 3rd October. Roger also spoke at the screening at The Drum in Birmingham on 15th October  http://www.the-drum.org.uk/single-event/?id=SEL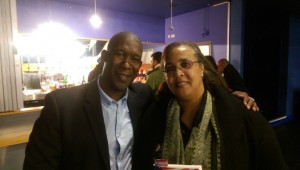 Friend and comrade Paulette Wisdom at the Selma screening of the Drum in Birmingham
MEDIA TV & RADIO APPEARANCES
Roger appeared on Made in Bristol TV in a feature for the book and also was a guest reviewer on Ellie Pitt's Press Pitt. He appeared as a radio guest on Dinner with Phil Hammond on Radio Bristol and also Radio West Midlands co-inciding with his appearance at The Drum in Birmingham.
COMMUNITY SUPPORT & LITERARY FESTIVALS
Roger, as an ardent supporter of Black History Month, sees this as a way of sharing stories and bringing people together.  Black History Month provides a great opportunity to showcase history through arts and culture, and celebrate heritage of giants. He attended and took part in a Live Lab Radio and went to… radio event. He was invited to South Wales to the prestigious Millennium Centre, Cardiff where he was part of the Black History Event Wales with Butetown Heritage Centre http://www.bhmwales.org.uk/  and discussed his book with the local public. He also spoke to young people at the Ask About Me Event at Bristol Royal Hotel on 24th  October. Roger also appeared at the Bristol Literary Festival on 17th October.
Looking forward to next year and more events and festivals!