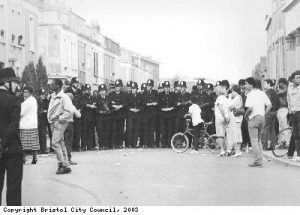 Just when does a riot signify a rebellion?
Well, let me tell of a time when communities took to the streets to defend their dominions.
The difference for some can be a matter of Colour,
But for many others is a matter of Honour.
I remember when as a boy-man just about to leave school,
Halston Drive, Brighton Street and Grosvenor Road were no places for fools.
How can you possibly understand when a person has reached the end of their tether?
Fed up of ritual police humiliation and tasting skinheads leather.
For when black lives and blue lines mash,
It becomes more than a culture clash.
And so it began on April 2nd, 1980, when the Black & White cafe exploded into flames,
Its raging occupants lighting up media headlines forever with dark fame.
The indigo skies were lit from the blaze the sirens blaring for miles around,
Whilst down below broken glass, desperate cries and shouts provided the street-sounds
In those moments there is no reasoning, reckoning, no time for sorrow,
Just 'Get Up Stand Up' with little hope offered for brighter tomorrows.
Toxteth, Brixton, Handsworth and Broadwater Farm came next,
From a people pushed beyond being merely vext.
Some say, 'A crime is a crime, so those responsible must be punished and silenced!'
Ignoring state complicity through sus laws, mass-unemployment and violence.
After the school gates closed, I learned resistance and uprisings were commonplace,
In order to preserve black lives and save face.
Nanny Maroon, Bussa, Quamina and Sam Sharpe, all led Caribbean rebellions,
Against the evils of the slave trade that made many in Bristol and Britain millions.
Mandela and Martin went to prison, resisting with actions that were contrary,
To the Black Panthers and Bernie Grant who believed in 'By any Means Necessary.'
Now Black Lives Matter and fresh activists take forward all these mantras,
Whilst others like me tackle social injustice in stanzas.
So, I can understand depending on your point of view,
Whilst this tale can make you feel black or blue.
But whether you call it a Riot or Rebellion matters not the least,
As just like back in the day, too many miss out on societies feasts.
Published in Bristol 24/7 on 1st  April 2020 –  https://bit.ly/Stpauls40B247