Image: Roger meeting Prince William
Reclaiming Empire part 2:   My Day at Buckingham Palace
On Tuesday 25th February on a beautifully crisp sunlit day, I collected my MBE at Buckingham Palace for services to Diversity and Arts. It was a wonderful day and occasion for my family with Mum, Sister Laurice and fiancée Stacie, there to witness the ceremony. Being nominated brought mixed feelings and not just because of connotations with 'Empire' which I wrote about in Bristol 24/7. There was a sense amongst my fellow recipients including a Citizens Advice advisor who worked with the residents of Grenfell fire disaster, that there were more deserving people. However, as my doting sister advised, today was not the day for that.
Like many others I had only seen Buckingham Palace from the outside, acting as tour guide to family members and friends from across the world in my birth city. I would watch them as they peered through the iron railings, wondering aloud whether the Queen was 'home' and perhaps taking tea behind one of the many ornate windows. I would watch as they vainly tried to disturb the Queen's Guards into actions, that would differentiate them from Madame Tussauds' mannequins.
Passing through the regal courtyard and feeling the crushed gravel beneath my feet was electrifying and jolted me back to less illustrious times. I was constantly aware of the countless individuals who have assisted my career and proud to have fulfilled their dreams and delivered my potential. 'A hand up not a hand-out' had been my mantra and remembering friends like Paul Hassan brought waves of emotion. Paul had nurtured my raw potential since I wondered off a building site and into a positive action scheme in St Pauls. That turned into an 18-year career moving from trainee housing manager to a Senior Manager with Bristol City Council. Then, following redundancy along with founding Director, Kevin Philemon, we worked together to take Radio to new heights. Paul's guidance of working from the inside, speaking to truth to power, proved his wisest counsel and here I was about to enter one of the most illustrious citadels.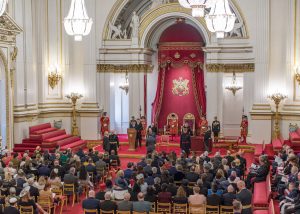 Inside the Palace, thick carpets cushioned my footsteps to protect the priceless pottery from toppling over. Gold leaf trimmings and flecked wallpaper decorated the walls with artwork of monarchs and vistas from Britain and Europe. No one who gazed back at me from these paintings had my skin complexion, no landscape depicted the civilizations that existed before or after the reign of the British Empire. Maybe this is a project for the Lord Lieutenant Peaches Golding and me to work on, I mused chuckling to myself as I waited. Then we were called forward in alphabetical order and I was pleasantly surprised when former children's entertainer and actor Derek Griffiths joined me. I thanked him for the joy he had delivered as one of the first Black British performers on television, as others thanked Ben Stokes and for his cricket heroics.
The moment came when my name was announced over the classical orchestra. It felt like I was in a Hollywood movie, only I was playing me! I looked for a family wanting to share this once in a lifetime moment, knowing Stacie and Laurice would be shedding happy tears whilst Mum beamed her stoic serene smile. I thought of my late father who had been the first to show me Buckingham Palace. He gave 32 years of his life to the London Underground arriving from Guyana in 1958, beginning by sweeping up discarded tube-tickets before driving the trains. He met and greeted Prince Charles when the Jubilee line opened as the station manager of nearby Green Park underground in 1977. Decades later truth would become stranger than fiction as the sons of Prince Charles and Laurie Griffith from Georgetown, Guyana would renew the connection. A tall uniformed Prince William deftly pinned the MBE medal upon my lapel. He was very gracious and well-briefed as we discussed my community and cultural work, and we both agreed that the arts are such a vital tool for self-expression and engagement for diversity and inclusion. The ceremony ended, and we posed for pictures that would outlast us, but provide memories that our descendants would treasure.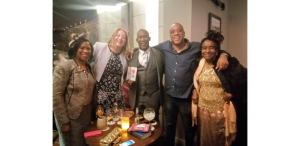 A day later my box-fresh three-piece suit was replaced by a tracksuit, as I sat at my Mum's home in South London. She had, much to our family's bemusement, purchased a Netflix subscription, which I was dutifully setting-up. With intended irony, I showed her the opening of The Crown.
" We grew up thousands of miles away from Buckingham Palace, yet we knew everything about the royal family." My mother remarked," 'I can remember when the Queen got her bad news about the death of her father when she was visiting Kenya, the details of her dress for her wedding, we knew everything it was always in our newspapers. But what was that to us? Where was our history?"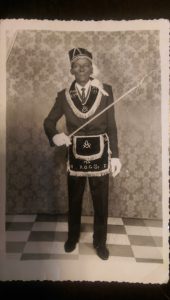 I smiled surprised by this new historical anecdote illustrating the colonial influence on a schoolgirl in then British Guiana, South America and still part of the British Caribbean and Commonwealth.
It was a reminder that when we are asked by future generations "Where is our history?" from the paintbrush to the pen, we must ensure we have a curriculum and commissions that tell our story and our many contributions to Britain.