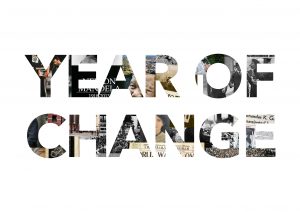 2018 is an extraordinary year of landmark historical events.
As a writer, curator and producer, history gives me so much inspiration and is something I have learned to appreciate that in telling Black and different stories I never gained growing up. I have selected some great landmark occasions that bring tragedy and triumph; celebration and commemoration together to celebrate great lives and important moments as a YEAR OF CHANGE. Our aim is to make a real difference through debates, radio programmes, talks, films, images, celebrations, events and actions. Join us and make a change in 2018! I have curated the following for a series of debates. talks, radio programmes, celebrations, films and much more.
The Year of Change agenda which I have curated has already wielded successes. Through Ujima's Arts Council England investment we have been working in partnership work with Bristol Old Vic to make a difference. This resulted in the local paper Bristol Post apologising for a front-page that had caused upset to the Black community in the region in 1996.  Here is the link to the article in the Bristol Post 
The apology caused national and international headlines and in April we will team up again in a series of City Conversations to ask how Bristol commemorates the Transatlantic slave trade.
I will update with more information throughout the year. Please watch this space!
YEAR OF CHANGE 2018 LIST OF EVENTS AND DATES
2018 is a historic year of celebration with the following events and provocations.
THE 100TH ANNIVERSARY OF THE WOMEN'S RIGHT TO VOTE – WOMEN'S SUFFRAGE – 6th February 1918 and throughout the year.
Various events all through the year celebrating gender equality and saluting the sisterhood.
2. FREDRICK DOUGLASS 200th birthday – 14th February 18
Former illiterate slave who self-taught himself to become a writer, activist, anti-abolitionist and powerful orator. He counselled Abraham Lincoln and visited Bristol on numerous occasions to plead for the end of slavery from his personal life experiences of witnessing its brutality.
3. THE DEATH OF DR MARTIN LUTHER KING 50th anniversary – 4th April 1968 born 15th January 1929
A look into the life and times of the great activist and what we can learn from his legacy and leadership.
4. HEADS OF COMMONWEALTH SUMMIT – 16th April 2018.
Fifty-two leaders of the Commonwealth across the Africa, the Caribbean, Asia, Australasia and the Americas will gather in London hosted by the Queen. What does the notion of a Commonwealth mean in 2018 for its citizens and how do those who have migrated to the UK from the former British colonies feel about Empire today?
5. THE 25TH ANNIVERSARY OF THE MURDER OF STEPHEN LAWRENCE
Stephen Lawrence was murdered by a group of racists in South London on 22nd April 1993. The case made headlines as it uncovered institutional racism in the Metropolitan Police Force and several major institutions in Britain. His mother Doreen Lawrence is planning to arrange several tributes including a concert featuring Stormzy.
6. WINDRUSH – 70th anniversary – 22nd June 1948.
The arrival of 492 migrants from Jamaica and the Caribbean that literally changed a nation. A chance to look back on their contribution to Britain and the world.
7. ST PAULS CARNIVAL – 50th anniversary   – 7th July 2018.
The annual celebration of multi-cultural Bristol and Britain returns to the streets in July.
8. NELSON MANDELA – 100th birthday – 18th July 1918
One of the great historical figures of modern times would have been 100 in 2018. What lessons about the notion of freedom through the ages of history can we learn today?
9. THE BLACK POWER SALUTE- 50th anniversary 16th October 1968  50th Anniversary of Tommie Smith and John Carlos gloved black fist salute at the Mexico Olympic Games that still carries great significance from rap music to the Black Lives Matter movement.
10. UJIMA RADIO 10th ANNIVERSARY – July 2018 and throughout the year of change  Celebrating ten years of broadcasting as a social action, community media and arts organisation